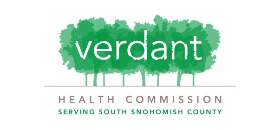 March of 2012 marked an important milestone for Lahai Health and the Edmonds community – our Mobile Medical Clinic, affectionately called 'HOPE', began providing free basic health care services to low-income and uninsured individuals and families at Edmonds United Methodist Church (EUMC).
What a blessing – EUMC is already home to a local food bank, which serves struggling neighbors on Tuesdays. Because our MMC also operates on Tuesdays, we have been well positioned to build meaningful connections with those who need our help.
We're thankful to continue making a difference in Edmonds, but we haven't done it alone! Key community partners have joined with us to make these vital services available – especially the Verdant Health Commission, which has invested $75,000 per year for the next 2 years.
Verdant invests in community programs and empowers people to choose a healthy lifestyle,collaborating with local organizations on innovative health and wellness programs in South Snohomish. Lahai Health's MMC program was chosen because it fits well with Verdant's vision of improving access to healthcare for the uninsured living within the community.
Six local churches are giving $100 per month to help sustain our efforts in Edmonds, and an amazing team of volunteers remains committed to caring for patients each Tuesday. But, more help is needed to continue growing this program! To learn how you can help, please contact Lynn Heitritter, Edmonds Site Coordinator, at 425-778-2119.