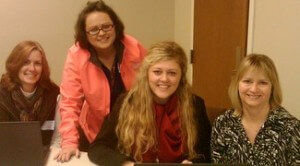 On a recent rainy Thursday evening in Snohomish, I had the pleasure of meeting several new Lahai Health volunteers. Most didn't know one another, but that didn't last long. As they came in, they immediately introduced themselves. We began the evening with prayer; then volunteers headed off to their place of service: nurses and doctors to the mobile clinic, receptionists and floaters to the reception area, and spiritual care volunteers to be with patients.
Throughout the evening between caring for patients, the volunteers talked. Snohomish Community Church provided dinner for the volunteers, so as time allowed, they came, two or three at a time, to eat and share their stories. They learned about each other: where they worked; where their kids went to school, where they worshipped; and more. They laughed at silly jokes and shared favorite places in the community. They were making new friends…and loving one other.
These volunteers are the Body of Christ, from several different churches, coming together to serve their low-income uninsured neighbors.
Jesus said, "Love one another. In the same way I loved you, you love one another. This is how everyone will recognize that you are my disciples—when they see the love you have for each other." John 13:34-35, The Message[/fusion_builder_column][/fusion_builder_row][/fusion_builder_container]